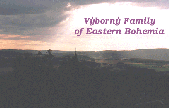 Information Resources: "Vyborny Vignettes Supplement" - Contents
---
Brief Contents of "The Vyborny Vignettes Supplement"
additional documents from the archive of Dr.Eugene H.Wyborney
retrieved and presented by Henry Wyborney and Leigh Wyborny

as well as

other current news
Names of persons concerned (see the family tree) underlined. Dates of publication given in [brackets].
---

1- Thanks to the gravedigger ("Dekovacka pro hrobnika") a story ( in Czech ) of the daughter of the writer Jan Prochazka (*1929, +1971) the outstanding representative of "the Czechoslovak Spring 1968". [1971]





2- The letter written to Dr.Eugene Wyborney of Cheney, WA from Pearl (Praxedes Nowinski) Vyborny, mother of Carl and Kathleen Vyborny, two of the site sponsors. [Date late 1970s or early 1980s]





3- Lee Vyborny, Don Davis : Dark Waters: An Insider's Account of the NR-1, the Cold War's Undercover Nuclear Sub" New York: New American Library, [Jan, 2003], 243pp.





4- Arthur G.Haus : A Friend Remembered - Carl J. Vyborny, M.D., Ph.D., SBI Fellow : SBI News , [Apr 2004], p.10.





5- M.L.Giger, C.E.Metz, K.Doi and R.M.Nishikawa, The University of Chicago : Memorials - Carl J. Vyborny 1950 - 2004 : AAPM Newsletter, [May/June 2004], vol.29, No.3, pag.14-15.





6- American Association of Physicists in Medicine Awards Ceremony, Pittsburgh, Pensylvania [July 26, 2004] : Special Award for Outstanding Service to the AAPM - Carl J. Vyborny, M.D., Ph.D..





7- FENWICK HONORS FACULTY MEMBER FOR EXCELLENCE : Mrs. Terrieann Vyborny has been selected as the 2004 recipient of the Rev. George Conway, O.P., Award for Excellence in Teaching. She was also one of the twelve members of the Fenwick Faculty named to Who's Who Among America's Teachers. Fenwick News, [School Year 2004-2005]





8- Excellence in education The Messenger Vol. 92, Num. 1, [Winter 2005]: Steven Wyborney has been named Oregon Teacher of the Year.





9- Maryellen L. Giger and Charles E. Metz : Carl Joseph Vyborny : Physics Today Journal, [May 2005], pag.87.





10- Current news NÖN WOCHE 37/2006, Austria [2006]: First School day of Anya Victoria Vyborny. Format .pdf here.





11- Interview to Josef(*1947) Vyborny of Pucher near Kutna Hora/Caslav, CR, published in Czech in: Kutnohorsky denik, [Oct 2, 2006], p.4. Click on to open his short cv in English and his portrait.





12- Joseph Vyborny : in the webpage: About Koletzky Implement Inc., Yankton, South Dakota [2008]. Courtesy Jae A. Koletzky.




---

Contact: cv@vyborny.com



---




---

Last updated: Apr 17, 2008