MUDr. Josef(*1864)'s
tree of the "Kresetice" line
---
Introduction:

MUDr.Josef(*1864) the author of "The Vyborny Book" has completed the family tree of "the Kresetice line", too. The basic part of this document was written about 1887 as deduced from the oldest notes written in. Other notes have been added later. One of the most recent is the one regarding to the year 1919.

The tree structure:

The family tree is written on a very wide sheet of paper (of "landscape" orientation). The height of the paper is about 8-1/4".
To copy the original document it was divided into 7 individual ("landscape") sheets. Relative positions of these sheets are indicated below (magnified pictures of individual scanned sheets can be opened clicking on the corresponding placeholders):

The oldest generation (Frydrich*1649) recorded on the sheet #3: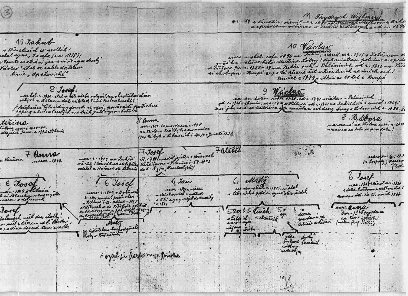 Data regarding the oldest ancestors of the Kresetice line available on the following pages (in Czech), too. Their exact source unknown. Though the hand writing is not of MUDr.Josef (*1864) Vyborny, the data seem to be based on his knowledge. The pictures can be magnified by clicking on.








---

Contact: cv@vyborny.com


---
---
Last updated: Jun 21, 2001