References in "The Book" about Vyborny family of the region of Prague, Bohemia
---
Introduction:

"The Book of the Vyborny Family" describes briefly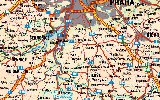 some members of Vyborny family of the region of Prague, Bohemia.





Text:

page #150


The Vyborny family of the region of Prague

Mr. Antonin Vyborny the joiner at Smichov district of Prague (around the year 1858) had provided me some data about this family. He himself was born at Haering village near Ricany [about 10 miles eastern from Prague].

His father Jan was born there too and brother of this one was Vacslav whose family had widespreaded all over the world. The father of both Jan and Vacslav had been a shepherd at the [oubrin ?] Liechtenstein demesne and he had been both at Herink and at Tobovicky [ Popovicky]. According to the preserved tradition conveyed to me by Dr.[?] Vyborny the origin of this ancestor was said to be somewhere near Kutna Hora town from. This patriarch of them died aged 110 years, perhaps. I have asked different parish offices and I have obtained such answer from the parish of Popovicky village: "Our 'matrika' books exist since the year 1688. Their indexes [by names = an alphabetical order] are since 1774 only, however. It would not be possible to survey older matrika books other way as to read them completely, which is impossible (!)[?].

Since the year 1792 the surname Voborny had appeared but the surname Vyborny [appeared] since 1802 only. By this year [1802] Antonin Vejborny together with his wife Dorota nee Cerny settled at Doubravice village.

page #151


Later, about 1827 there was [the record about] Jan Vejborny with Barbora nee Krystof. This Jan came from Tobovicky [?]. Descendants of these two families are living in our region till present time. [The signature of] The parish office of Popovicky village [No.] 6/2 303 [?]".

The [anathomic] type of these Vybornys of Prague [region] is rather similar to that of our "Pucher" [= "Kresetice"] branch.

-------------------------------------------------


Note:

According to Mr.Frantisek Kabelac the Mayor of Herink village a member of the Vyborny family has lived in Popovicky still after the end of World War 2. He was a church-clerk in Popovicky and a shoemaker there.



---

Contact: cv@vyborny.com


---
---
Last updated: May 30, 2002